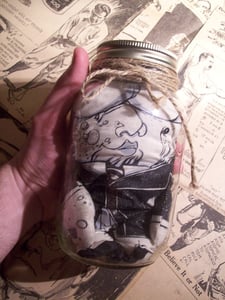 $

25.00
After decades of traveling the world for truly unique oddities, I bring to you, Joseph Merrick, "The Elephant Man". Fresh from touring the East Midlands, The Elephant Man has agreed to come to the United States seeking his fame and fortune, with promise of the occasional moving picture show.
Masterfully encased in glass by Norwegian Anatomists, The Elephant Man ready for transportation and to be showcased.
Each Pickled Punk Art Collectable was screen printed and sewn locally, in New York State. The Elephant Man is the first in a series of Freak Show inspired Art Dolls.