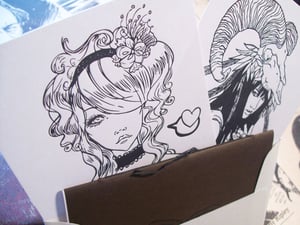 $

15.00
In a time of disconnect spurred by electronic media and instant gratification, Atlas II was created to help people redevelop an emotional attachment to something handmade. This idea was implemented by using forgotten techniques such as letterpress and hand binding. Each book's interior was created by a local printer and then cut down and hand folded by an Italian Artisan Apprentice.
Atlas II showcase's the world's finest illustrations stemming from New York City to Barcelona.
Each color art book features a relief printed cover, a hand stitched interior and two letterpress prints by artists Ling Tang and Cayetano Valenzuela.